Flower Boy Ramen Shop (Korean Drama - 2011)
4:25 AM
꽃미남 라면가게 / Kkotminam Ramyeongage
also known as
Flower Boy Ramen Shop
has has been started airing in Korea on October 31, 2011 via tvN network. It has 16 episodes and the airing time is every Monday and Tuesday (23:00).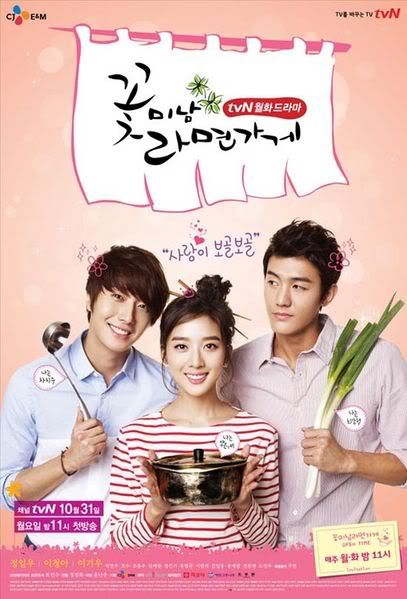 Title: 꽃미남 라면가게 / Kkotminam Ramyeongage
Also known as: Flower Boy Ramen Shop
Genre: Romance, comedy
Episodes: 16
Broadcast network: tvN
Broadcast period: 2011-Oct-31 to 2011-Dec-20
Air time: Monday & Tuesday 23:00
CASTS & CHARACTERS:
Jung Il Woo as Cha Chi Soo
Lee Chung Ah as Yang Eun Bi
Lee Ki Woo as Choi Kang Hyuk
Kim Ye Won as Kang Dong Joo
Flower Boy Ramen Shop Summary
:
Yang Eun Bi (Lee Chung Ah) is a University student preparing for her civil service exam with the dream of being a high school teacher. She accidentally encounters Cha Chi Soo (Jung Il Woo), the an arrogant son of the biggest food conglomerate in Korea. Both of them ends up working at a ramen shop runned by the lazy Choi Kang Hyuk (Lee Ki Woo).

This romantic comedy deals with "pretty boys," who with good looks and individuality, operate a ramen shop with lively college girls and experience the happenings of daily life. -- HanCinema